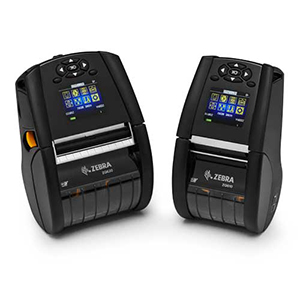 Zebra Mobile
Zebra's mobile printers boost employee productivity and accuracy with portable and wireless on-demand label, receipt, and barcode printing.
Increase your employees' productivity, precision and accuracy. Equip them with wireless mobile printers that are tailored to how they work and the job they do.
Printers range from those ideal for occasional use, to rugged machines that feature a range of latest connectivity options and robust functionality that keeps you operating in even difficult situations.
Zebra wireless receipt and mobile label printers boost employee productivity and accuracy. Workers can print barcode labels, receipts or tickets quickly and efficiently, at any time and any place.
With IP ratings up to IP54 and drop specifications up to 6ft to concrete, Zebra mobile printers can withstand harsh and demanding environments, inside or outside the four walls.
The ZQ, iMZ and QLn series of mobile printers are compatible with Apple iOS, Android and Windows operating systems, making them easy to pair with the latest smartphone, PDA or tablet. The QLn 220/320 is also available with a disinfectant casing, tailored specifically for healthcare environments.
PREMIUM : QLn Series
Lightweight, drop resistant and user friendly, QLnTM mobile printers are ideal for
warehousing, shipping and receiving, and merchandising. Our QLn220 and QLn320
Healthcare mobile printers with disinfectant-ready plastics are ideal for mobile
specimen collection or other healthcare applications. Use them to print barcode
labels, receipts and other documents exactly when and where they're needed. The
Link-OS® technology makes them easy to integrate, manage and maintain from a PC,
smartphone or tablet, anywhere in the world.
RUGGED PREMIUM: ZQ500 Series
The industry's most rugged mobile printers that can withstand repeated drops to
concrete from 6.6' (2m). With an IP54 rating, they are protected from liquid and solid
ingress, plus have a Mil-Std 810g rating for shock and drop. Large buttons and a user-
friendly interface are easy to operate, even when wearing gloves. Zebra's Link-OS
makes them simple to integrate, manage and maintain.
MID RANGE: iMZ Series

These mid-range printers have the features you need, in the design you want, for the
price you can afford. With the latest connectivity options, the iMZ printers are perfect
for applications both inside and outside the four walls. With the small, stylish design,
they work well in customer facing environments and are compatible with the latest
smartphone and tablet operating systems.
VALUE: ZQ110 Mobile Printer
This affordable 2-inch mobile printer produces receipts and tickets on demand and
on the go. Although it prints at speeds up to 3.5 inches-per-second, it slips easily into
a pocket and weighs only eight ounces. The "sleep mode" helps to conserve battery
power, and the mobile printer connects wirelessly to a range of Apple, Android and
Windows devices.
Quick Overview of Zebra's QLn320 Mobile Printer