Linerless Labelling -
Environmentally Friendly
ZEBRA - LINERLESS LABELLING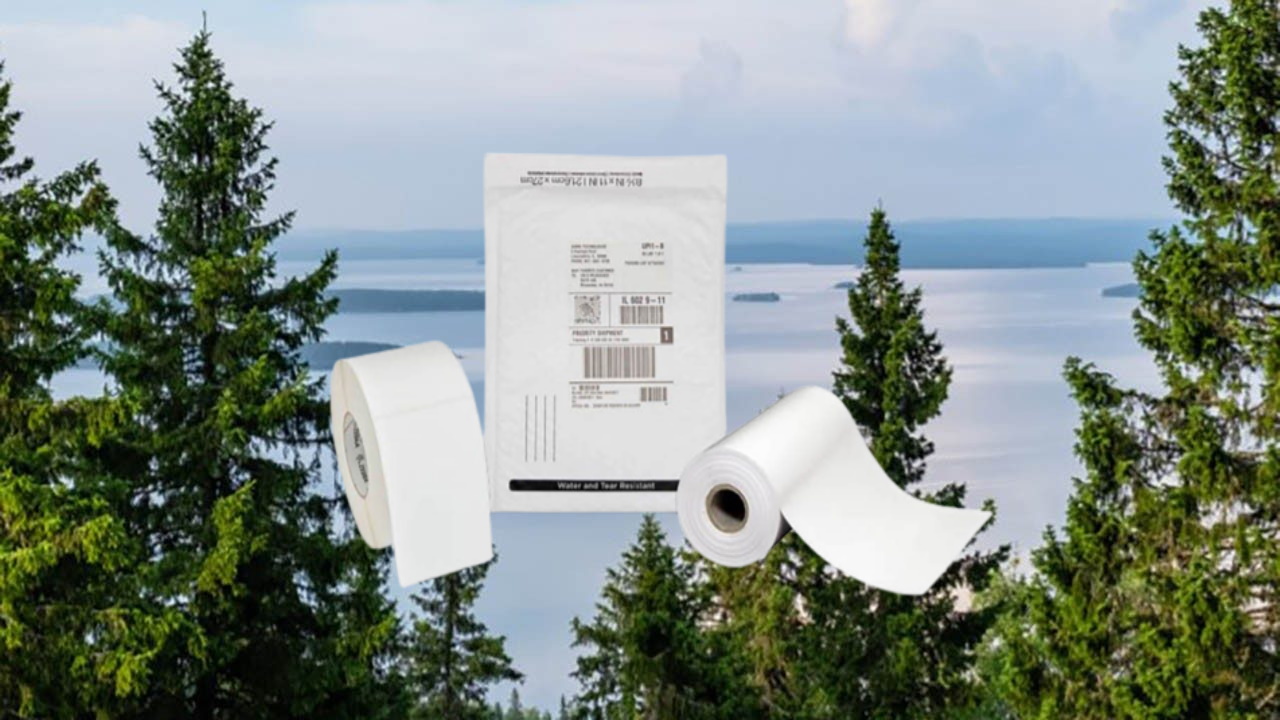 Environmentally Friendly
Supplies Solutions
As concerns for environmental sustainability continue to grow, companies are looking for innovative strategies to decrease their environmental impact while also increasing operational efficiencies and productivity.
To support your sustainability goals while keeping your operations running effectively, Zebra offers innovative, environmentally friendly thermal supplies. Our line of eco-friendly Zebra Certified Supplies enables you to demonstrate your dedication to the environment as a globally responsible
corporate citizen, while delivering the performance you have grown to know and depend on from Zebra Certified Supplies.
What are Linerless Labels?
Unlike standard labels, linerless labels do not have a liner with a release coating that enables the
label to peel away and separate the adhesive from labels underneath it on the roll. Similar to a roll
of tape, linerless labels feature a silicone release coating on the top layer of the labels and special
adhesive that enables them to peel away from labels underneath.
Key Benefits of Linerless Printing
Incorporating a linerless printing solution has many advantages:
• Reduces waste to positively impact the environment
• Improves productivity as media rolls contain 50% more labels and require fewer media changes
• Supports waste-reduction efforts and compliance with government environmental directives1
• Reduces workplace slip hazards from liner piles that collect beneath printers
• Decreases weight in mobile printers and reduces label roll shipping as linerless rolls weight up to
40% less than traditional, pressure-sensitive labels with a liner
• Enables flexibility for printing varying label lengths
Linerless labels are successfully used for a wide variety of applications in several industries ranging
from food and beverage to pharmaceutical labeling to retail to parcel delivery.
Disposing of liner material continues to be an environmental challenge. More and more countries are
requiring organizations that use media with a liner to take steps to reduce waste. A recent European
Union directive,1 for example, has reclassified label liner material as "packaging waste" and has set
targets for recovery and recycling. This increase in strict regulation is driving businesses to look for
alternate, more environmentally friendly options such as linerless to comply and continue to meet
their operational objectives
What are the Challenges to Linerless Solutions?
With all the advantages, implementing a linerless solution can be tricky. First, you need to ensure
that your printer and linerless labels are compatible with each other. One key factor is to ensure your
linerless labels have been fully tested with your specific printer.
Regular thermal desktop and mobile printers cannot accommodate linerless labels. Desktop
and mobile linerless printers feature a special platen roller with a non-stick surface to reduce the
instances of the label adhesive sticking to the platen roller. As labels are printed, the adhesive comes
into direct contact with the platen roller because there is not a liner to serve as a buffer. Also, desktop
linerless printers feature a special cutter to cut the labels to size as they are produced.
Linerless materials perform much different in desktop printers than in mobile printers, and in printers
from varying manufacturers. Printer brands have differences in form factor and mechanical design,
requiring specific formulations in the adhesive and label coating.
Material

Name

Printing

Technology

Material

Type

Adhesive

Key Features

Z-Perform

1000D PF Label

Direct

Thermal

Phenol-Free

Paper

Permanent

Acrylic,

Removable,

High-Tack, or

Deep Freeze

Engineered with phenol free developers,

offering an ideal substitute to standard labels

with phenols used for shipping, receiving, and

work-in-process

8000D

Linerless Label

Direct

Thermal

Paper

Permanent

Acrylic or

Removable

Features a silicone release top-coating and

special adhesive that enables the labels to

peel away from labels underneath it with no

liner needed. Eliminates liner waste found with

standard labels.

PolyE 4000D

Label

Direct

Thermal

Polyethylene

Permanent

Acrylic

When used with a polyethylene bubble mailer,

consumers can easily recycle, reducing dirty

recycling and the amount of packaging going

into landfills.
Zebra's Certified Linerless Solutions
To help you achieve your goals with linerless labeling, Zebra has certified the following linerless solutions
8000D Linerless Desktop labels with the ZD620 direct thermal printer:
8000D Linerless Mobile labels with mobile printers: